You've probably heard the phrase 'business operations' before – but have you ever explored what it truly means? 
 In the simplest terms, it's a label for the way all of a company's different departments function together in order to make the business profitable. That can extend from corporate departments like marketing, sales, purchasing and recruitment, right the way through to the effective management of research, production, distribution and the wider supply chain. The exact nature of the operations and the main business challenges it faces depends on the kind of business it is, and the industry within which it exists. 
 Of course, such a logistical challenge creates the need for at least one role (often more in larger businesses) to take oversee and guide the business on a day-to-day basis. That's where an operations manager comes in. 
 In this post we'll explore what an operations manager is, the best way to explore that career path, and how the role of operations management is particularly relevant to our business here at Church & Dwight.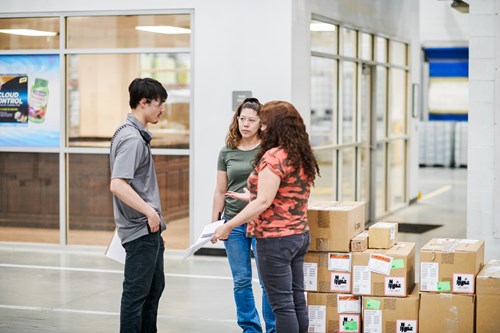 What does an operations manager do?
An operations manager is in charge of a business's core operations on a day-to-day basis, including ensuring that the business's workflow processes are set to work in the most efficient fashion. 
The specifics of an operations manager's day-to-day will depend on the company and industry they operate within. For instance, in the retail world, an operations manager may oversee the training and recruitment of staff, the ordering of new stock, the issuing of safety policies and the creation of employees' work schedules.
An operations manager in a warehouse may take on some of those duties too, but also be responsible for quality control of products being shipped, and maintenance of equipment – for instance, fixing of manufacturing faults in warehouse distribution systems.
They may even be responsible for drawing up plans to improve their workplace's output, including making improvements to using data to make recommendations for new technology depending on the business's quality control challenges and the general commercial demands of an ever-changing market. 
How to become an operations manager
Operations management is a specific career skill and becoming an operations manager often means committing to the career path wholeheartedly and investing in your future. The earlier, the better!  
 Those that take this path will find a deeply rewarding and varied role with established career progression and many interesting challenges to solve – particularly when moving between different sectors and industries. 
These are our tips for how to become an operations manager: 
1. Get a business-related degree
Recent research shows that over 60% of operations managers have at least a bachelor's qualification in a related field. For instance, a degree that factors in aspects of business, leadership, mathematics and management will stand you in good stead to be taken seriously by employers when it eventually comes to applying to operations manager positions.  
2. Find relevant work experience and a mentor figure
Real-world experience is key to becoming an effective operations manager. You can get this by working in different departments within a business and being exposed to different aspects of its operations, and also by learning from people with vastly more experience than yourself in that field – ideally, on the job. Customer service roles are always a great 'in' to any company, but you can make yourself indispensable by taking time to understand the market for the company's services and products, and by learning how the working process flows between the business's different departments – with a view to being able to improve those processes in the future. 
3. Earn further qualifications and certifications
An essential part of eventually becoming an experienced senior operations manager is having a growth mindset and a proactive approach to your career. That means considering taking on a master's degree to further expand your theoretical business knowledge, and becoming accredited in things like supply chain, inventory management, people management and program management. 
4. Develop relevant competencies
Accreditations are one way to prove your qualities but day to day personal development should also never be neglected – particularly if you have a long-term career as an operations manager in mind. Whatever junior role you're currently in, there are a number of core competencies relevant to operations management you can potentially work on while being supported by your business's human resources team or your direct line manager.  
 These include: 
Leadership skills

 

Supply chain management strategies

 
Strong communication

 

Professional judgment

 

Responsiveness when dealing with ambiguity

 

Big picture thinking

 
The more proactive you are in pursuing these competencies, the greater the chance of you landing an operations management role in the not too far future. 
5. Apply for an operations manager role 
Having gotten qualified, added relevant certifications to your resume, taken on other roles within a business and developed your personal and professional skill set, the last part of How to become an operations manager is to apply for at least an entry level operations manager role. So collate all of those achievements and fire off those resumes – ideally targeting the sector, industry and even specific employer that intrigues and inspires you the most. 
Operations management in manufacturing
Here at Church & Dwight the multi-disciplinary skill of operations management is particularly relevant to our manufacturing arm. A manufacturing operations manager needs to be detail-oriented, organized and strategically-minded – able to make sense of high volumes of information, run meetings, work-cross functionally, and drive projects for our numerous brands. 
Essential functions for an operations manager in our manufacturing space include: 
Promoting a safety culture and awareness 

 

Providing leadership, guidance and team support across the manufacturing process

 

Monitoring and maintaining department budgets

 

Facilitating and driving employee engagement activities

 
Reviewing, developing, implementing and revising processes and procedures to drive improvement

 

Coordinating and monitoring recruitment as well as training and development programs

 

Actively participating in supplier interaction activities

 

Creating and executing annual objectives and performance feedback sessions.

 

And much, much more

 
Are you seeking an operations manager role?
 To learn more about operations management in Church & Dwight and the role of the operations manager, visit our Global Operations page or read our guide to operations management in manufacturing. 
Interested in joining us as an operations manager? Take a look at our open roles.