What is a Packaging Engineer?
In a recent blog we explored the different roles in the field of research and development – one of which was packaging engineer jobs. 
In this article, we'll delve deeper into what a packaging engineer does, the skills you should look to develop if you're interested in becoming one, and exactly how you can go about landing an R&D role in packaging engineering. 
What does a packaging engineer do?
Packaging engineering jobs are wide and varied. 
Primarily, packaging engineers design, develop and produce packaging that allows their client to ship a product attractively, securely, safely, and just as importantly, at an acceptable cost. The role can focus on primary packaging, like outer boxes and slip cases, or the more functional secondary packaging, which is the inner boxes, slip cases and safety insulation/padding that prevent products and produce from getting damaged during delivery. 
However, because of the specialized nature of their skill set, packaging engineers are also sometimes asked to get involved with developing machinery or modify existing packaging systems in order to make the end-to-end packaging process more efficient.
It's also quite possible that a company might ask a packaging engineer to get involved with package testing. This can help them see if there are discrepancies between initial design and the final packaging solution, and give their feedback in order to iron out any unforeseen flaws. 
Essentially, a packaging engineer job is an essential role for most manufacturing lines – and an increasingly popular career choice for people whose skill sets bridge the gap between creative design and pragmatic thinking.  
What skills do you need to be a packaging engineer?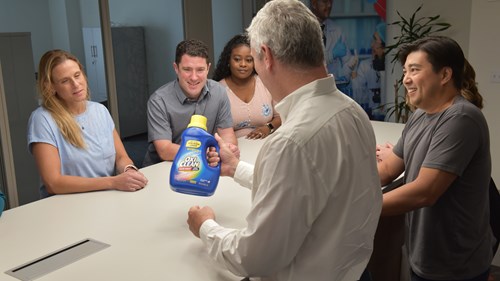 Packaging engineering work is multi-skilled, focusing on both visual design and engineering skill sets. To find success in a packaging engineering job you'll need to develop the following skills:  
A high level of mathematics ability and scientific understanding
Being an engineering position that sits under the umbrella of R&D, a packaging engineer job requires a high level of competency with both mathematics and science. This foundation gives the engineer a good grounding in the specifics needed to create precise measurements while still factoring in the safety, security and cost effectiveness of the solutions they create – not an easy balancing act to achieve. 
Packaging design
Packaging design needs to be both pragmatically considered and aesthetically pleasing. A packaging engineer will research both current standards and the company's own packaging history and aim to create packaging that is both functional and beautiful, while remaining on brand and attractive to prospective customers. 
Computer Aided Design (CAD)
While packaging design is quite a general skill, CAD is where it becomes specific. Using specialized software, a packaging engineer will create detailed 2D drawings and/or 3D models of the packaging to the exact millimeter, allowing them to improve the quality of detail before exporting the finished model into the manufacturing process. 
Project management
As key players in the packaging design process, packaging engineers will often lead their work from the front and take on project management duties. This can mean leading teams, reporting to higher management, and even giving training on the considerations and success metrics required to bring a product to market from a packaging perspective. 
Logistics and cost management
Packaging engineers often have to think about the cost impact of their designs on the business from a logistical perspective. For instance, an especially complex design may necessitate many packaging folds on the assembly line, including the intervention of manual checking, which can drastically slow down production and contribute to increased costs. Packaging engineers will therefore work across teams to simplify designs and bring these time considerations down to an acceptable amount, helping the business's logistics division in the process. 
How to become a packaging engineer
While there is no single, foolproof answer to how to become a packaging engineer, following these basic steps will give you as good a chance as possible of landing your first packaging engineering role. 
Get a good education in relevant fields
Due to the role's technical nature, most packaging engineers begin by finishing high school and getting a bachelor's degree. That can mean a specific packaging engineering degree, or one in machanical engineering. These will also encompass subjects like chemistry, math and material science, ensuring you get a good grounding in everything you need to understand the challenges of modern packaging and can take the lead in finding solutions. 
Gain related, real-world packaging design
experience
The next step in becoming a packaging engineer is gaining experience in the field itself in the form of an internship or work placement. The great news here is that packaging engineers are needed across a multitude of industries, so there is no one 'best' industry to target. Instead, think about what interests you most and target the roles and opportunities that will give you the best grounding for the kind of research and design work you'd like to pursue in your career. 
Join a professional organization for packaging engineers
Another helpful tip for how to become a packaging engineer is to become a member of a professional organization where you can learn more about the industry and meet more experienced engineers. The Flexible Packaging Association and Institute of Packaging Professionals are just two examples. 
Start your package
engineering
journey in a junior role
By now you've explored what a packaging engineer does and mostly answered the question of How to become a packaging engineer – with one exception: getting that first role! 
It may therefore surprise you to learn that most packaging engineers start off as something else. However, that's perhaps a little less surprising when you consider the level of responsibility the role can encompass. 
Instead of looking for packaging engineer roles, aim to start instead within a packaging associate role or your chosen company's equivalent. It will allow you to learn the basics, shadow more experienced engineers, and slowly work your way towards your dream packaging engineer job.
Interested in a career in packaging
engineering
?
Check out our R&D teams page for a wider look at the different roles in research and development here at Church & Dwight, or browse our full list of R&D vacancies to see if we've got the packaging engineer job for you.