Each year, businesses in the United States collectively spend over half a trillion dollars on research and development (R&D). The federal government alone predicts a 9% increase in its R&D costs, and industry experts have noted how this upwards trajectory has led to R&D jobs becoming increasingly in demand.
With that in mind, many people are understandably researching how to work in research and development and aligning their career paths for a career in R&D experiments or R&D engineering.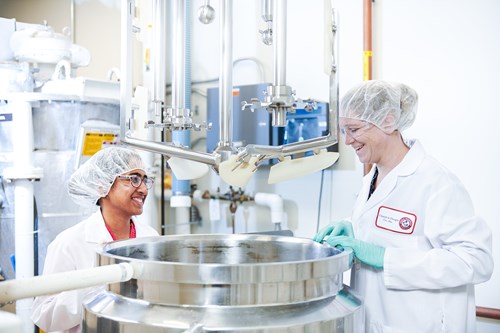 We've put together this article to offer an insight into securing a research and development job. However, before we address that directly, first it's important to clarify the term.
Exactly what is research and development?
Research and development is the process which companies, institutions and even governments use to understand the market for their products and services, devise new ideas, and develop them to the point they can launch them as a professional offering. It can be broken down into two areas:
Research

is scientific in nature, focused on conducting experiments, analyzing results and drawing conclusions. This can happen in setting varying from labs, to focus groups, but either way the goal is to forensically understand the principles behind what works, what doesn't, and where the opportunities for innovation lie.
Development

is about using that understanding to inform the creation of innovative new processes, products and services. The development phase uses a scientific approach but focuses on making a tangible end product, meaning that R&D engineering roles fall into this
If you're a technically minded and detail-oriented professional with a passion to change the world and the drive to achieve amazing things under close scrutiny, a career in research and development could be for you.
What kind of R&D jobs are there?
Before setting out on a career in research and development, it's important to understand the kinds
of roles available, so you can decide what best fits your skills and interests.
While the specific job titles may change from organization to organization, some of the most common R&D job types include:
Scientists

work in research and take time to understand problems and opportunities in the market

Engineers

work to solve a specific problem revealed by the scientist's research

Inventors

are innovators who go a step further and create products designed to solve a problem in a way nobody has thought to

Project managers

oversee R&D projects, managing the budgets, timelines and milestones that the other team members work to.
How to get into a research and development career
Whatever area of the R&D industry you're interested in, it pays to have a plan. Below, we'll outline a general career path you can follow to help you pursue a rewarding R&D profession. Use these steps to help you along your journey.
1.  Study a relevant degree
While the R&D field's sheer vastness means there is no single, over-arching research and development degree, there are any number of relevant qualifications it might be relevant to study at the bachelor's level and beyond.
R&D jobs tend to be complex, requiring a high level of technical ability and knowhow. For those with a general interest in R&D who are unsure which area they'll want to go into, obtaining a degree in fields like computer science, mathematics or physics can help lead to a career in research and development. For those looking specifically into the engineering path, courses in aerospace, chemical, mechanical or electrical engineering can all prove to prospective employers that you have the acumen to begin a career in those fields. Managers meanwhile may come to a research and development job having pursued a degree in business administration, finance, or computer science.
2.  Seek an entry level R&D job
Getting a degree in a related field is a great start because it shows prospective employers you are serious about your career path and have the acumen to go far in the R&D industry. Having said that, a career in research and development begins for real when you land an intern position. Thanks to
this post, you're already armed with vital information about the general job roles you might investigate. To be more specific, entry-level R&D job titles you might come across include:
Research and development assistant

R&D associate

Project management specialist

Research analyst

Entry-level scientist

Junior global service engineer

Entry-level chemist

Packaging engineer
One great tip is to invest in researching your research and development job options with the same enthusiasm that you'd approach the career at large. Leave no stone unturned: study job postings, listen to podcasts, and speak to those with extensive R&D industry experience. When you've decided on the R&D job role(s) that interest you most, send resumes far and wide to land that all- important entry level role.
3.  Continue adding to your qualifications
Obtaining a relevant research and development degree is only the beginning of what will prove a life-long learning journey in the R&D industry. Those looking to progress as engineers will want to pursue a Professional Engineering (PE) license, which is offered in different states by different licensing boards. You need at least four years of experience being supervised by a professional engineer in order to apply for a PE license, and you'll also need to pass the Fundamentals of Engineering (FE) exam – so it's no small order. Likewise, ongoing studies to obtain a Master's degree or Doctorate can all help to significantly increase the salary you can command – and some companies may even offer to sponsor you if they feel a long and promising career in research and development lies ahead of you under their umbrella.
Different Types of Jobs in Research and Development
This post may have offered your first insight on how to get into research and development, but it really is just the beginning if you're just starting out and wanting to know more information. If you're wondering about the different roles available in the R&D industry then take a look at our blog post about exploring different jobs in the Research and Development industry. 
Skills Required for Research and Development
Research & development roles require personal skills and attributes which make potential candidates successful at the jobs available in the field. Click here to learn more about some of the skills required for working in a research and development role.
Research and Development at Church and Dwight
To learn more about Research and Development at Church and Dwight, visit our R&D team page.
Looking to land your first R&D job – or maybe take your current R&D industry career the next level? Check out the R&D roles currently available here at Church & Dwight.