At Church & Dwight we are home to some of the world's most beloved and well-known consumer brands. Each one of those brands is driven by the passion and marketing know-how of a dedicated and skilled brand manager. 
In this post we'll explore the role and responsibilities of a typical brand manager, as well as offering an insight into how you can begin your career in the exciting world of brand marketing.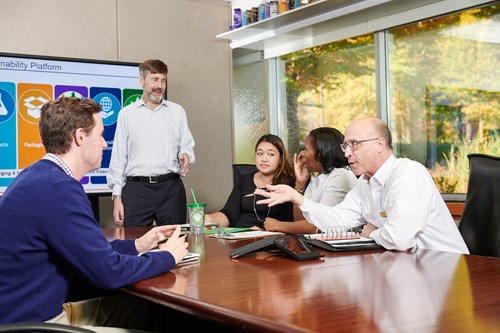 Typical
brand managers' responsibilities
A brand manager is responsible for increasing the brand awareness of a product, service or even person using a wide variety of marketing strategies and tactical approaches. They're usually an experienced member of the marketing team and will often have a deciding say on the creative messaging, look, feel and public image of the brand they're responsible for. 
Some of the key responsibilities in effective
brand management
include:
Identifying business opportunities:

Understanding their product's or service's target demographic can allow a brand manager to identify gaps in the market for new products and services.

 

 
Conducting

marketing

analyses and forecasting:

Having identified those opportunities, a brand manager will then conduct an in-depth marketing analysis and commercial forecasting, giving the company a deeper understanding of the opportunities and allowing them to create a roadmap for ensuing branding and marketing efforts.

 
Creating a brand image:

A

brand manager's responsibilities

also extend to overseeing the brand's creative efforts, including briefing projects to external agencies and/or working with internal stakeholders to build brand guidelines and ensure all products and services carry the correct look and feel.

 
Executing

marketing

and advertising campaigns:

A deep knowhow of

brand marketing

strategies will also allow a brand manager to lead digital marketing, social media and general advertising efforts, directing a team of marketers and creatives to ensure campaigns are delivered, measured and optimized at every stage for maximum efficiency.

 
Typical
brand managers' skills
We've outlined some of the key responsibilities inherent to brand manager jobs – but what skills do you need to do this kind of work? 
For someone to be a successful brand manager, they also typically need to be: 
Strong communicators:

Brand management

is highly social work that involves managing many stakeholders and driving the vision for the brand to everyone who will play a part in bringing it to life in the public eye. With that in mind, arguably the most important of all

brand manager skills

is that they are excellent communicators – both verbally, and in writing.

 
Highly creative thinkers:

Another crucial

brand manager skill

is the ability to think outside the box. This competency can allow brand managers to not only deliver market-leading services and products, but also get around budgeting constraints and motivate their team to deliver their best work in the name of the

company

's brands.

 
Skilled digital marketers:

As already mentioned in this post, being skilled marketers mean brand managers also have access to a wealth of strategies to bring their brand to the widest audience possible. In particular, modern brand managers are masters of

digital marketing

techniques, able to use their deep knowledge of their demographic to target the right people on the right digital platforms with content and campaigns that are inspiring, memorable, and highly shareable.

 
Team players and strong leaders:

Being accountable for an entire brand, brand managers typically lead from the front, using their communication skills, creative mindset and deft marketing knowhow to inspire those around them in delivering truly memorable

brand marketing

.

 
How to become a brand manager
Earn a relevant degree
While there is no one degree-level course in brand management, there are a number of different bachelors courses that can offer an effective 'in' to the profession. Perhaps the most obvious is marketing, given that the brand manager role is a high-level marketing position where you'll need to call upon a wealth of experience and knowhow in that area. However, the creativity and communication you'll need in a brand manager job mean a degree in journalism, creative writing, public relations or communications can also be a great first step. 
Seek a related entry-level position
With a degree in the bag your next step should be to seek an entry-level role in a field relating to that qualification. Roles like a digital marketing, assistant, junior content writer, content coordinator, social media specialist or PR assistant can all be excellent first steps on the ladder to an eventual brand manager job. 
Get additional
marketing
and brand-related certifications
Becoming certified is also a great way to progress towards eventually landing a brand manager job. One option is to pursue further learning in the field directly relating to your entry-level role, like taking a writing course if you're a writer, or pursuing a marketing qualification if you're a PR or marketing intern. Another option is to start certifying in brand management itself, with credible qualifications like this one from AIPMM available to study. 
Apply for junior brand manager roles
After several years in the professional world at a company that's given you valuable skills alongside an insight into all things brand, you may feel you're ready to apply for a junior brand manager role. When that's the case, don't be shy – there are a wealth of opportunities out there at companies just waiting for someone hungry, creative and ambitious to make their mark! 
Looking to become a brand manager?
Visit our marketing team page to learn more about marketing roles here at Church & Dwight. Thinking of joining us? Browse our open roles to see if we're recruiting for your ideal next job.