As we explained in our recent post on operations management, an operations manager is an essential role for many businesses that is responsible for overseeing the conversion of company resources into saleable goods and services. 
Operations management roles are therefore needed across a multitude of industries, with popular roles including warehouse operations manager jobs and product operation manager jobs. However, the position is especially important in the efficient running of businesses that have a manufacturing focus. 
 In this post we'll explore the benefits of effective operations management in manufacturing (commonly referred to as manufacturing operations management, or MOM for short), the various areas of a business that a dedicated manufacturing operations manager can be responsible for, and the ways in which they might work to optimize a company's manufacturing operations.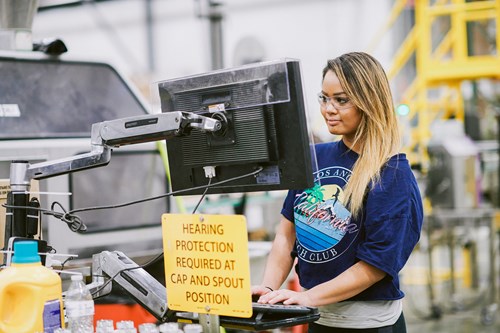 Manufacturing operations
management: the benefits
 There are a number of benefits that business's experience when they manage manufacturing operations well. These include: 
Less waste:

 Effective manufacturing management allows a

business

to maximize raw materials and reduce its waste output.

 
Higher quality of products and services:

 

Managing manufacturing operations

also enables a

company

to run more efficiently, use materials with less cases of incidental damage, and because of that consistently improve the quality of the products and services it produces.

 
Improved customer perceptions:

  The better a

company

's products, the more satisfied its customers are likely to be. Couple that with a

manufacturing operations manager

working to improve order fulfilment accuracy and you have a powerful combination for positive brand perception and excellent word of mouth, as well as fruitful long-term working partnerships in the B2B space.

 
More efficient use employees' time and skills:

 

Managing manufacturing operations

effectively will

allow a

business

to deploy its greatest resource, its employees, in the ways that best suit their unique skills and passions. It can also allow different teams to align across departments for better cross-functional working.

 
Improved compliance:  Effective

manufacturing operations

management ensures that your

company

complies with relevant government regulations, helping them to keep employees safe while also avoiding potentially hefty financial penalties in the process.

 
Higher profit margins:

  As mentioned above, the ultimate goal of someone working a

manufacturing operations job

is to make sure the

business

' manufacturing

process

es are optimized for efficiency. Consistently doing this across various aspects of the

business

will service to create better products at higher volume, lower wastage, deploy people most effectively, and ultimately serve to increase a

company

's profits.

 
Managing manufacturing operations
While the above list can be considered the 'why' behind effective manufacturing operations management, the 'how' can be far more complex depending on the nature of the company, the optimization challenges it faces, and the industry within which it operates. 
Broadly speaking, however, someone in a manufacturing operations management job can be responsible for improving efficiencies in three different areas: 
Process
es
A manufacturing operations manager is often responsible for optimizing a business's end-to-end processes to ensure they're working as efficiently as possible in-line with given budgets. 
For example, they could take a deep look into the company's current supply chain process with a view to creating efficiencies, such as using data to refine the process of receiving, storing and retrieving raw materials that are essential to the manufacturing process. They might also incept the rollout of technologies that trigger an alert when specific materials stock levels run high or low, allowing the business to stay automatically on top of stock levels of important materials and avoid both storage bottlenecks and manufacturing drop-offs and ensuring the business meets its key performance indicators (KPIs). 
Additionally, these processes may encompass project workflow between different departments and teams, establishing new technologies or working processes at the lower, mid-tier and even management levels to ensure a company's manufacturing output is everything it can be.  
As part of this approach to processes, someone managing manufacturing operations will likely use Lean Six Sigma methodologies to help guard against wasteful use of physical resources along with wasting employees' time, effort and talent. The benefits of this approach can also be felt across the other two aspects of operations management in manufacturing. 
People 
Another key element of managing manufacturing operations is utilizing what is often labelled a business's most important resource: its people. This is in many ways the role's most complex and arguably its most important challenge, as it encompasses managing: 
Safety:

Manufacturing operations managers

are responsible for promoting a safety culture and awareness within a

business

. This includes supporting, broadcasting and enforcing safety policies and procedures fairly and consistently, as well as leading behavior-based safety initiatives across a department, or even an entire company.  

 
Recruitment, training and development:

Effective

manufacturing operations

management also encompasses identifying skills gaps within a team and aiming to fill them. This can happen by recruiting new hires, or by training and developing existing employees to ensure their career trajectory aligns with their employer's needs for the role. This can mean operations managers partner with HR managers to outline a role's career path, incept training and performance manage employees, as well as getting involved in the interviewing and wider hiring process.

 
Wellbeing:

An essential part of maximizing employee productivity in the modern working world is ensuring the company creates a professional environment that's conducive to positive mental health and supportive of employee's physical wellbeing. With manufacturing being a physically intensive and deadline-led industry, that responsibility often falls on the shoulders of the

manufacturing operations manager

, who may approach this as part of their employee development strategy, as well as working with HR teams to establish the most supportive policies and employee benefits packages. 

 
Production
The final area of a manufacturing operations manager's core responsibilities lies in the physical means of production. This could involve deciding on a suitable location for a manufacturing site, the nature of the facilities required, and what kind of machinery and software the plant will need in order to operate to maximum efficiency. 
 Once a plant is up and running, managing manufacturing operations in an ongoing fashion then means staying up to date on developing technologies and making important decisions around when to upgrade hardware, or either change up or expand the manufacturing space to accommodate production of new commercial product lines as the business adapts to an ever-changing market. 
 Naturally, any additions or changes to a production space will also impact the people involved, and could require new policies, working processes, additional headcount, further training, or supporting facilities. All of these will be considerations that the manufacturing operations manager will have to weigh up before bringing a detailed, budgeted proposal to senior management. 
Seeking a
manufacturing operations management job
?
Our global operations team is always on the lookout for bright minds who can make our business better. If you're interested in learning about what you could be doing as a manufacturing operations manager here, view our open roles and take the first step on your Church & Dwight journey.