Job Description
A collective energy and ambition. A place where you can make a real difference.
We're a company that genuinely cares about our people, our products, our consumers and the environment.
Our unique, informal culture champions courage, determination and collaboration. Knowing we have an open and supportive team means each of us has the freedom to take responsibility and ownership. We have a shared passion to work hard, innovate and push boundaries.
United by the belief that when we strive for growth, anything is possible. While we might not be the largest company in our industry, we believe we can have the biggest impact because: Together We Have the Power to Win.
Notre culture informelle unique met de l'avant le courage, la détermination et la collaboration.  Pouvant compter sur une équipe solidaire et à l'esprit ouvert, chacun de nous peut assumer ses responsabilités et prendre une part active à nos projets .  Nous partageons une même croyance : lorsqu'on vise la croissance et qu'on se retrousse les manches, tout est possible. L'occasion d'emploi ci-dessous illustre de quelle façon vous pourriez avoir un impact sur l'entreprise.
Nous sommes actuellement à la recherche de candidats pour le poste permanent suivant pour le site de Montréal:
Poste : Aide-Générale – Conditionnement - Quart de weekend et/ou Quart de nuit
Sous la supervision du Superviseur du secteur Conditionnement, l'Aide Générale au conditionnement est responsable d'occuper différents postes de travail dans le secteur du conditionnement afin de supporter les activités quotidiennes.
Horaire du quart de nuit : de lundi à jeudi 22h30 à 07h15
Horaire du quart de weekend: vendredi de 0700 -09h15, samedi et dimanche 06h00 - 18h15
Tâches et responsabilités
Transporter les palettes de vracs et composantes vers les lignes de conditionnement durant la production des lots
Transporter les palettes de produits conditionnés vers le secteur de l'entrepôt et emballage des palettes
Alimenter les trémis d'équipements en produits et composantes
Nettoyer les équipements fixes, pièces, chaudières ou tout autre item d'aide à la production
Nettoyer les aires de travail et lignes de conditionnement
Participer à la récupération de composantes / vider les contenants de produits finis
Placer les produits emballés dans des boîtes
Réaliser les opérations de dégagement
Respecter les Bonnes Pratiques de Fabrication, les Bonnes Pratiques documentaires et les procédures reliées à la Santé sécurité au travail
Maintenir la propreté et l'ordre dans le secteur de travail
Effectuer tout autre tâche connexe tel qu'assignée par le superviseur
Qualifications
Diplôme d'Études Secondaires (Sec V)  
1 -2 ans d'expérience dans un poste similaire sera considéré comme un atout
Connaissances des BPF (Bonnes Pratiques de Fabrication)
Aptitudes démontrées pour la rigueur, le respect des procédures, la flexibilité et l'esprit d'équipe
Aptitudes requises pour l'utilisation d'équipements de manutention (formation sur l'équipement de manutention devra être réussie avec succès)
Engagement démontré avec les valeurs de l'entreprise : Savoir-faire technique et numérique, attitude positive, Viser haut, Entraide, Innovation, Simplification
Church and Dwight Canada est un employeur qui souscrit au principe de l'égalité d'accès à l'emploi et qui s'engage à offrir un environnement de travail sans obstacles, inclusif et accessible. Les candidats peuvent avoir droit à des mesures raisonnables d'adaptation en ce qui a trait aux caractéristiques protégées par la loi, conformément à la législation pertinente sur les droits de la personne. Si vous avez besoin de mesures d'adaptation dans ce contexte, nous collaborerons avec vous afin de répondre à vos besoins. Veuillez communiquer avec notre service des Ressources humaines si vous désirez que l'on prenne certaines dispositions au moment de remplir cette demande d'emploi ou de prendre part à toute autre activité au cours du processus
Church and Dwight Canada is an equal opportunity employer committed to providing a barrier-free, inclusive and accessible work environment. Applicants may be entitled to reasonable accommodation in respect of a legally protected characteristic in accordance with applicable human rights legislation. If you require accommodation on this basis, we will work with you to meet your needs. Please inform our Human Resources department if you require an accommodation in completing this application for employment or for otherwise participating in the application process.
 
Global Operations
We mitigate supply chain issues and solve challenges in order to continue supporting and serving our corporate customers.
Learn more

Role Location
Canada
Canada is more than its hulking-mountain, craggy-coast good looks: it also cooks extraordinary meals, rocks cool culture and unfurls wild, moose-spotting road trips.
Explore this location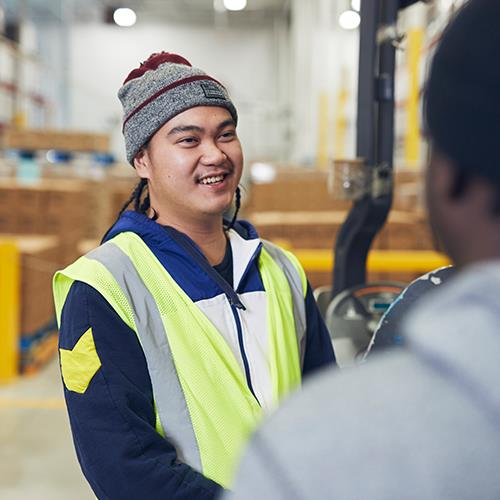 Equal Employment Opportunity for the Disabled

At Church & Dwight

As an equal opportunity employer, Church & Dwight is committed to providing access and opportunities to individuals with disabilities. Applicants who require accommodation in the job application process may contact 877-809-8449 or email their resume and cover letter to jobs@churchdwight.com. Please note that these options are available only to those needing an accommodation because of a medical condition or disability. All email submissions should include "Accommodation needed" in the subject line as well as information related to the specific position you are interested in (requisition number, job title, location, etc.). Church & Dwight will not respond to inquiries made to jobs@churchdwight.com or 877-809-8449 that are not related to accessibility of the online application system by persons with medical conditions or disabilities. To review Church & Dwight's Equal Opportunities Employer Policy, click link below.

Learn More