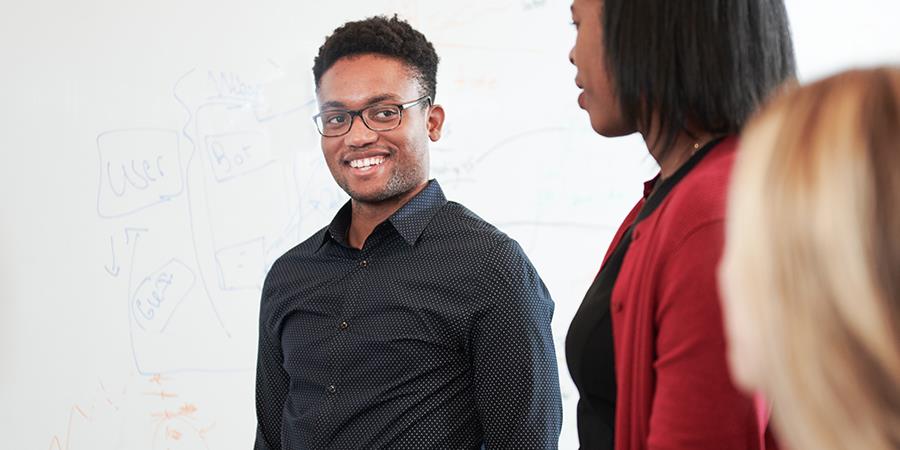 DONOVAN F.
Marketing, United States
As associate brand manager on vitafusion, I manage day-to-day projects and analyze consumption trend data.
Before vitafusion, I was assistant brand manager for L'il Critters, and before that, I was a marketing intern for OxiClean. Of all my work over the past two and a half years, I'm most proud of the vitafusion CBD gummy launch event we put on in NYC in January 2020.
The CBD launch was special because it was my first time orchestrating an entire event from start to finish. It was great to work with a big name and successfully find a way to market our CBD offering, which is subject to a lot of restriction.
Favorite part of your job
I love building the soul of a brand. Brands always seemed like mysterious black boxes growing up; it's interesting to see behind the curtain and to participate in the work that goes into growing a brand.
Favorite Church & Dwight product
I'm a big fan of Arm & Hammer OxiClean. It is my favorite product because it simply works and smells great. It has the trusted power of OxiClean combined with the reliable effectiveness of Arm & Hammer, what more could you want! I also love the large size containers, it really helps me not have to continuously remember to pick up detergent.
What does "Together, we have the power to win" mean to you?
If everyone dedicates themselves to our shared mission and feels motivated to grow our brands, we will succeed.
Marketing
On the marketing team, every day is different. We work to ensure the longevity of the company.
Learn more
DIVERSITY

At Church & Dwight

Church & Dwight strives to create an environment where everyone feels free to bring their authentic self to work every day.

We win when we respect every employee for who they are – regardless of gender, age, race, ethnicity, religion, disability, veteran status, sexual orientation or any other differences. We believe that our employees' contributions are richer because of their diversity. We aim to be a diverse, inclusive and equitable company and are determined to build a culture where people have the power to win together.
CULTURE

At Church & Dwight

We care - about our people, our products, our consumers and our environment. To honor these priorities, we've built our culture around the tenants of courage, determination and team spirit. We're united by our small company feel and inspired by opportunities to make our mark.

Learn More