Superviseur, Contrôle de la Qualité/Supervisor, Quality Control
Job Description
A collective energy and ambition. A place where you can make a real difference.
We're a company that genuinely cares about our people, our products, our consumers and the environment.
Our unique, informal culture champions courage, determination and collaboration. Knowing we have an open and supportive team means each of us has the freedom to take responsibility and ownership. We have a shared passion to work hard, innovate and push boundaries.
United by the belief that when we strive for growth, anything is possible. While we might not be the largest company in our industry, we believe we can have the biggest impact because: Together We Have the Power to Win.
Position:  Superviseur, Contrôle de la Qualité
Relevant directement de  Chef, Qualité Opérationnelle
Quart de Travail  Quart de jour, 37.5h/semaine
Nombre de subordonnés  3 (équipe d'environ 20)
Portée du poste:
Le ou la titulaire du poste est responsable de la gestion de toutes les activités du service d'analyse, y compris les laboratoires du contrôle de la qualité (chimie et microbiologie), le développement et validation des méthodes analytiques.
Principales responsabilités:
Responsable de la promotion d'une culture de la sécurité et de la sensibilisation à la sécurité dans l'ensemble des laboratoires du contrôle de la qualité. Appuie les politiques et les procédures de sûreté corporatives et de l'usine.
Soutenir une culture qualité dans les programmes des laboratoires du contrôle de la qualité, en s'efforçant de s'améliorer continuellement, conformément aux bonnes pratiques de fabrication (BPF) et à toutes les exigences réglementaires et légales.
Gérer les activités des laboratoires du contrôle de la qualité (chimie et microbiologie) et de l'unité le développement et validation des méthodes analytiques, en tenant compte des ressources nécessaires, des besoins de production, des délais et des priorités.
Gérer les opportunités d'amélioration continue et le Lean Roadmap en identifiant, analysant les systèmes et les processus et en optimisant l'efficacité, les performances, les coûts, la conformité et la sécurité.
Vérification et approbation des rapports de validation des méthodes analytiques et microbiologiques et d'autres documents techniques.
Développer, maintenir et améliorer les procédures et la documentation du service d'analyse (SOP, dossiers, protocoles, etc.) tout en assurant la conformité avec les BPF et autres standards applicables.
Gérer le programme OOS (Out of specification) pour les tests non conformes, les causes fondamentales et les enquêtes, recommander et effectuer le suivi des actions correctives.
Imputabilité pour les enquêtes en laboratoire.
Assurer une gestion optimale des ressources de laboratoire.
Gérer un personnel de chimistes, de microbiologistes et d'analystes.
Former les employés et assurer leur développement dans le cadre de la planification de carrière.
Être responsable de la conformité du service d'analyse aux BPF courantes, aux politiques de l'entreprise, aux procédures opérationnelles normalisées, aux méthodes d'analyse et aux pharmacopées actuelles
Travailler avec le service de validation pour soutenir les études.
Collaborer avec R&D / les services techniques concernant l'introduction de nouveaux produits pour les tests en laboratoire ou le soutien aux produits établis.
Se tient au courant des approches actuelles de l'industrie, des BPF et des lignes directrices des organismes réglementaires.
Participe au processus d'embauche pour identifier et sélectionner du personnel qualifié.
Dirige et encadre le personnel et maintient un personnel compétent par la formation, le perfectionnement, la motivation et la gestion du rendement.
Accomplir d'autres tâches connexes liées à la portée du travail, selon les besoins et les attributions.
Utilise son leadership et ses habilités de communication afin de travailler de manière interfonctionnelle et à tous les niveaux de l'usine, y compris la direction, de manière efficace.
Délégué autorisé du Chef, Qualité Opérationnelle pour toutes les activités de laboratoires.
Compétences et Qualifications
Diplôme universitaire canadien en chimie, biochimie, microbiologie et/ou disciplines pertinentes (c.-à-d. sciences de la vie) ou diplôme reconnu comme équivalent par une université canadienne
Minimum de 7 ans d'expérience dans le domaine du contrôle de la qualité ou dans un domaine connexe, dans un environnement de production réglementé et en constante évolution
Minimum de 5 ans d'expérience en supervision de personnel
Excellente connaissance de la norme ISO 13485 et des bonnes pratiques de fabrication Canadiennes et américaines.
Excellentes compétences en matière de planification, d'organisation et de communication, combinées à une capacité à travailler de manière autonome avec un minimum de supervision et dans des délais serrés
Excellentes qualités relationnelles et de communication – capacité à établir des relations positives à tous les niveaux de l'organisation locale
Bonnes aptitudes et compétences en tant que team builder, coach et mentor
Bilinguisme, français et anglais (oral et écrit)
Position:  Supervisor, Quality Control
Reporting directly to Manager, Operational Quality
Number of direct subordinates 3 (overall team of 20)
Job Scope:
The incumbent is responsible for managing all activities of the analytical department, including quality control laboratories (chemistry and microbiology), development and validation of analytical methods.
Main Responsibilities:
• Responsible for promoting a culture of safety and safety awareness in all quality control laboratories. Supports corporate and plant security policies and procedures.
• Support a culture of quality in quality control laboratory programs, striving for continuous improvement, in accordance with Good Manufacturing Practices (GMP) and all regulatory and legal requirements.
• Manage the activities of the quality control laboratories (chemistry and microbiology) and of the development and validation of analytical methods unit, taking into account the necessary resources, production needs, deadlines and priorities.
• Manage continuous improvement opportunities and the Lean Roadmap by identifying, analyzing systems and processes and optimizing efficiency, performance, cost, compliance and safety.
• Verification and approval of analytical and microbiological method validation reports and other technical documents.
• Develop, maintain and improve analytical service procedures and documentation (SOPs, records, protocols, etc.) while ensuring compliance with GMPs and other applicable standards.
• Manage OOS (Out of Specification) program for nonconforming testing, root cause and investigation, recommend and follow up on corrective actions.
• Accountability for laboratory investigations.
• Ensure optimal management of laboratory resources.
• Manage a staff of chemists, microbiologists and analysts.
• Train employees and ensure their development as part of career planning.
• Be responsible for the analytical department's compliance with current GMPs, company policies, standard operating procedures, analytical methods and current pharmacopoeias
• Work with the validation department to support the studies.
• Collaborate with R&D / Technical Services regarding new product introduction for lab testing or support of established products.
• Keeps abreast of current industry approaches, GMPs and regulatory agency guidelines.
• Participates in the hiring process to identify and select qualified personnel.
• Leads and coaches staff and maintains competent staff through training, development, motivation and performance management.
• Perform other related duties related to the scope of work as required and assigned.
• Uses leadership and communication skills to work cross-functionally and at all levels of the plant, including management, effectively.
• Authorized delegate of the Head, Operational Quality for all laboratory activities.
Skills and Qualifications
• Canadian university degree in chemistry, biochemistry, microbiology and/or relevant disciplines (i.e. life sciences) or degree recognized as equivalent by a Canadian university
• Minimum of 7 years of experience in the field of quality control or a related field, in a regulated and constantly changing production environment
• Minimum of 5 years of experience supervising staff
• Excellent knowledge of the ISO 13485 standard and Canadian and American good manufacturing practices.
• Excellent planning, organizational and communication skills, combined with an ability to work independently with minimal supervision and under tight deadlines
• Excellent interpersonal and communication skills – ability to build positive relationships at all levels of the local organization
• Good skills and competencies as a team builder, coach and mentor
• Bilingualism, French and English (oral and written)
Church and Dwight Canada is an equal opportunity employer committed to providing a barrier-free, inclusive and accessible work environment. Applicants may be entitled to reasonable accommodation in respect of a legally protected characteristic in accordance with applicable human rights legislation. If you require accommodation on this basis, we will work with you to meet your needs. Please inform our Human Resources department if you require an accommodation in completing this application for employment or for otherwise participating in the application process.
 
Global Operations
We mitigate supply chain issues and solve challenges in order to continue supporting and serving our corporate customers.
Learn more

Role Location
Canada
Canada is more than its hulking-mountain, craggy-coast good looks: it also cooks extraordinary meals, rocks cool culture and unfurls wild, moose-spotting road trips.
Explore this location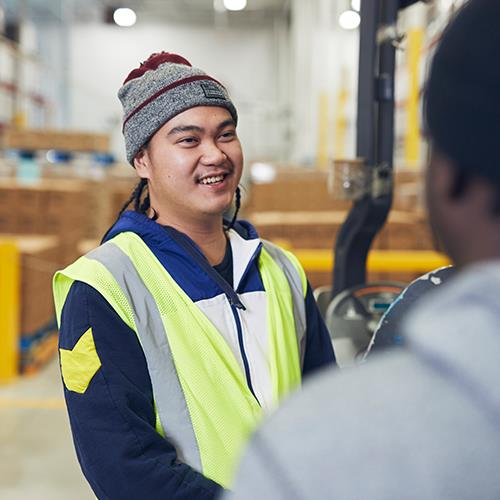 Equal Employment Opportunity for the Disabled

At Church & Dwight

As an equal opportunity employer, Church & Dwight is committed to providing access and opportunities to individuals with disabilities. Applicants who require accommodation in the job application process may contact 877-809-8449 or email their resume and cover letter to jobs@churchdwight.com. Please note that these options are available only to those needing an accommodation because of a medical condition or disability. All email submissions should include "Accommodation needed" in the subject line as well as information related to the specific position you are interested in (requisition number, job title, location, etc.). Church & Dwight will not respond to inquiries made to jobs@churchdwight.com or 877-809-8449 that are not related to accessibility of the online application system by persons with medical conditions or disabilities. To review Church & Dwight's Equal Opportunities Employer Policy, click link below.

Learn More