Job Description
A collective energy and ambition. A place where you can make a real difference.
We're a company that genuinely cares about our people, our products, our consumers and the environment.
Our unique, informal culture champions courage, determination and collaboration. Knowing we have an open and supportive team means each of us has the freedom to take responsibility and ownership. We have a shared passion to work hard, innovate and push boundaries.
United by the belief that when we strive for growth, anything is possible. While we might not be the largest company in our industry, we believe we can have the biggest impact because: Together We Have the Power to Win.
Titre du poste:            Comptable principal, coûts de revient
Relève du:                  Contrôleur des opérations
Sommaire:
Sous la supervision du contrôleur des opérations, le comptable principal de coûts de revient est responsable de l'exactitude du coût des matières directes standard (« DMC »), des activités mensuelles de clôture et des rapports de résultats réels.  Le comptable principal de coûts de revient est également responsable de la communication des données mensuelles d'inventaire et de rapprochement.  Dans ses fonctions courantes, le titulaire du poste doit transiger régulièrement avec le groupe des opérations à Montréal, le siège social à Mississauga et aussi avec le siège social américain.
Cet employé contribue également au système de saisie des factures au besoin et agit comme un remplaçant pour le commis principal aux comptes créditeurs.
Principales responsabilités :
Clôture mensuelle des comptes

Coordonner les activités de clôture mensuelle des comptes avec divers chefs de service afin de s'assurer que l'arrêté des comptes et les rapports sur les mouvements de stocks se fassent correctement et en temps opportun.
Procéder aux diverses étapes pour la clôture mensuelle des comptes SAP
Enregistrer les entrées de journal liées aux activités courantes
Effectuer une analyse mensuelle de variance pour expliquer l'écart avec le prix d'achat, l'utilisation du matériel et les écarts de main-d'œuvre par rapport au dernier plan ou la revue de la rentabilité des produits
Aider le contrôleur des opérations pour comparer les taux mensuels de coûts de conversion réels par rapport aux dernières prévisions de taux budgétisés
Aider le contrôleur des opérations avec la présentation et l'interprétation des résultats mensuels pour l'équipe de direction de l'usine de Montréal
Compiler les données inter-entreprises — les volumes, les coûts et les bénéfices
Analyser les frais de matériaux abîmés selon la marque
Calculer le profit au sein de l'inventaire canadien interentreprises, de façon trimestrielle
Compiler, expliquer et enregistrer les données de réévaluation des stocks

Stocks et volume de production mensuelle

Fournir une analyse détaillée sur les volumes de production mensuels; par marque, par gamme de produits et par unité de stock
Donner un compte rendu sur les stocks mensuels par marques avec des comparaisons avec les mois précédents et l'année précédente et expliquer les écarts importants
Examiner l'obsolescence des stocks de Montréal et les échéances à court terme, de façon trimestrielle, et inscrire les entrées de journal correspondantes
Coordonner la destruction des articles périmés de l'inventaire et assurer le suivi
Contrôle Hebdomadaire des coûts

Revue hebdomadaire des couts de production, explication des variances matière et main d'œuvre
Effectuer des analyses hebdomadaires des FGF pour s'assurer du contrôle budgétaire
Effectuer des analyses hebdomadaires sur les projets d'investissement pour s'assurer du contrôle budgétaire

Divers

Responsable du processus de costing pour tous les produits de Montreal
Mettre à jour les coûts standards des produits canadiens dans SAP suivant la cédule Corporative
Participer à la préparation du budget annuel et des processus trimestriels de revue de la rentabilité des produits
Résoudre des problématiques et mettre en place l'amélioration de processus
Remplir les enquêtes de Statistique Canada
Approuvé les demandes d'achats FGF pour la validation des données comptables
Aider le commis aux comptes-fournisseurs pour la saisie des factures, au besoin et à l'occasion
Autres tâches attribuées
Participer à des projets adhocs
Exigences spécifiques:
Accréditation de CPA, CMA de préférence
5 ans d'expérience dans un environnement de comptabilité de coûts de production
Démontre de fortes aptitudes analytiques 
Expérience avec le logiciel SAP (atout) (GL, établissement des coûts et des stocks) et des compétences avancées avec Excel
Capacité à produire du matériel de qualité dans des délais serrés et avec de courts préavis
Démontre une habilité à prioriser et gérer plusieurs échéanciers
Forte attention au détail
Excellentes aptitudes interpersonnelles
Capacité à travailler dans un environnement multidisciplinaire
Bilinguisme, parlé et écrit
Job Title:                    Senior Cost Accountant
Report to:                   Operations Controller
Summary:
Under the supervision of the Operations Controller, the Sr. Cost Accountant is in charge of the DMC standard cost accuracy, the monthly closing activities, and reporting of the actual results including variance analysis.  The Sr. Cost Accountant is also responsible for the monthly inventory reporting and reconciliation.  In their regular duties, the Sr. Cost Accountant must collaborate regularly with the operations group in Montreal, with the Mississauga head office and with the US head office.
The employee also contributes to the invoice entry system as required and acts as a back-up to the AP senior clerk.
Major responsibilities:
Month-end closing

Coordinates month-end closing with various department managers to ensure proper cut-off and reporting of inventory movements in a timely fashion
Executes SAP month-end closing steps
Creates required journal entries related to current operations
Perform monthly variance analysis to explain PPV, material usage, and labor variances compared to the latest Plan or forecast
Investigate and provide explanations for monthly actual conversion cost rates compared to the latest budgeted /forecasted rates
Assist the Operations Controller with presenting and interpreting the monthly results to the Montreal plant leadership team
Compile the inter-company data – volumes, costs and profits
Analyze the Spoiled Materials expenses per brand
Establish the profit within the Canadian inter-company inventory, quarterly
Compile, explain, and book the inventory revaluation

Monthly production volume and inventories

Provide detailed analysis on the monthly production volumes; per brand, per product line and per sku
Report the monthly inventories per brands with comparisons to previous months and previous year and explain the major variances
Review the Montreal inventory obsolescence and short expiry quarterly and book the corresponding journal entries
Coordinate the destruction of the obsolete inventory items and follow-up
Weekly cost control review

Review weekly, production costs, to explain the material and labour variances in collaboration with the operations group
Perform weekly Overhead cost analysis to track and evaluate costs in order to work with operations on resolving cost overruns
Weekly CER costs analysis sent to the Engineering manager to ensure adequate tracking of capital projects. Meetings with the manager if necessary to control costs

Additional Tasks

Responsible for the costing process at the Montreal plant head office
Set the new year standard costs according to the Corporate Operations Finance schedule
Assist the Operations Controller in the creation of the Yearly Budget and monthly PPR
Resolve issues and implement improvements within processes
Complete Statistic Canada surveys
Approve the purchasing requisition for data validation.
Provide back up support to the accounts payable clerk on invoice entry
Provide support in various adhoc projects
Other duties as assigned
Specific requirements:
CPA, CMA designation preferred
5 years experience in a manufacturing cost accounting environment
Demonstrated strong analytical skills
Experienced with SAP software (GL, costing and inventory) and advanced Excel skills
Ability to produce high quality materials within tight timeframes and short notice requests
Proven ability to prioritize and effectively manage varying deadlines
Strong attention to detail
Excellent interpersonal skills
Ability to work in a cross-functional team environment
Bilingualism, spoken and written
Church and Dwight Canada is an equal opportunity employer committed to providing a barrier-free, inclusive and accessible work environment. Applicants may be entitled to reasonable accommodation in respect of a legally protected characteristic in accordance with applicable human rights legislation. If you require accommodation on this basis, we will work with you to meet your needs. Please inform our Human Resources department if you require an accommodation in completing this application for employment or for otherwise participating in the application process.
 

Role Location
Canada
Canada is more than its hulking-mountain, craggy-coast good looks: it also cooks extraordinary meals, rocks cool culture and unfurls wild, moose-spotting road trips.
Explore this location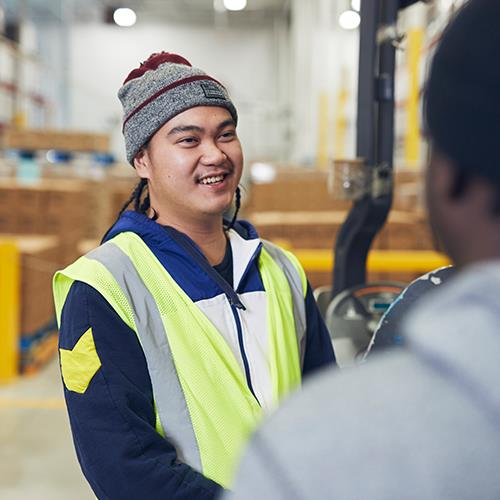 Equal Employment Opportunity for the Disabled

At Church & Dwight

As an equal opportunity employer, Church & Dwight is committed to providing access and opportunities to individuals with disabilities. Applicants who require accommodation in the job application process may contact 877-809-8449 or email their resume and cover letter to jobs@churchdwight.com. Please note that these options are available only to those needing an accommodation because of a medical condition or disability. All email submissions should include "Accommodation needed" in the subject line as well as information related to the specific position you are interested in (requisition number, job title, location, etc.). Church & Dwight will not respond to inquiries made to jobs@churchdwight.com or 877-809-8449 that are not related to accessibility of the online application system by persons with medical conditions or disabilities. To review Church & Dwight's Equal Opportunities Employer Policy, click link below.

Learn More