Job Description
A collective energy and ambition. A place where you can make a real difference.
We're a company that genuinely cares about our people, our products, our consumers and the environment.
Our unique, informal culture champions courage, determination and collaboration. Knowing we have an open and supportive team means each of us has the freedom to take responsibility and ownership. We have a shared passion to work hard, innovate and push boundaries.
United by the belief that when we strive for growth, anything is possible. While we might not be the largest company in our industry, we believe we can have the biggest impact because: Together We Have the Power to Win.
PORTÉE DU POSTE
Le titulaire de ce poste dirige l'équipe de chimie CQ et participe à la réalisation de diverses tâches nécessaires aux opérations de l'équipe du laboratoire de contrôle de la qualité, pour tous les types de produits de Church & Dwight Canada.
TÂCHES ET RESPONSABILITÉS
Sous la supervision directe du superviseur CQ:
Organiser les opérations quotidiennes dans le laboratoire de chimie CQ, pour respecter les échéanciers de relâche des produits.
Promouvoir une culture de santé & sécurité ainsi qu'une sensibilisation à la sécurité au sein du laboratoire de chimie. Soutenir les politiques et procédures de sécurité de l'usine.
Réviser les données et approuver les documents d'essais pour les analyse des matières premières, produits finis, produits intermédiaires et produits de stabilité.
Assurer la conformité du laboratoire aux exigences réglementaires.
Rapporter les résultats inattendus et rédiger ou participer aux rapports OOS/OOE/OOT de chimie.
Identifiez les déviations et rédigez ou participer aux rapports d'événements qui identifient les causes profondes et les actions associées.
Responsable de la mise en œuvre des CAPA identifiés pour le laboratoire de chimie.
Rédiger et tenir à jour les procédures et autres documents associés aux opérations du laboratoire de chimie, dans les délais prescrits.
Soutenir les opportunités d'amélioration continue dans le laboratoire de chimie.
S'assurer que les équipements utilisés dans le laboratoire de chimie sont vérifiés et étalonnés selon les horaires établis et conformément aux politiques de l'entreprise.
Fournir une expertise en tant que chimiste et répondre aux questions d'audit au besoin.
Effectuer les tâches administratives déléguées par le superviseur de la qualité, telles que la feuille de temps des employés et les évaluations annuelles de rendement.
Assumer d'autres tâches ou fonctions liées au poste au besoin.
QUALIFICATIONS
Diplôme universitaire en chimie ou biochimie (minimum B.Sc.)
Minimum 5 ans d'expérience dans un laboratoire de chimie.
Excellentes compétences en planification, organisation et communication.
Capacités et compétences de leadership en tant que bâtisseur d'équipe et coach
Bonne connaissance des BPF canadiennes et américaines et de pharmacopée (ex. USP).
Bonne connaissance des instruments et équipements utilisés au laboratoire de CQ chimie
Bilinguisme écrit et oral (anglais / français)
Connaissance des outils informatiques standards et dédiés
Membre de l'Ordre des Chimistes du Québec est un atout.
POSITION SCOPE
The incumbent of this position is to lead the QC Chemistry team and participate in the realization of a variety of tasks within the quality control laboratory team, for all types of products needed for Church & Dwight Canada operations.
TASKS & RESPONSIBILITIES
Under the direct supervision of the QC Supervisor:
Organize daily operations in the Chemistry QC laboratory, to meet product release schedules.
Promote a safety culture and safety awareness within the Chemistry Laboratory. Support plant safety policies and procedures.
Review data and approve testing records for analysis of raw materials, finished products, intermediate products and stability products.
Ensure laboratory compliance to regulatory requirements.
Report all outstanding results and write or participate in chemistry OOS/OOE/OOT reports.
Identify deviations and write or participate in event reports that identify root cause and actions.
Responsible for the implementation of CAPA identified for the chemistry laboratory.
Write and maintain procedures and other documents associated with the operations of the chemistry laboratory, within prescribed timelines.
Support continuous improvement opportunities in the chemistry laboratory.
Assure that equipment used in the chemistry lab are verified and calibrated as per schedules, in accordance with company policies.
Provide expertise as a chemist and answer audit questions as required.
Perform administrative tasks delegated from the QC Supervisor, such as employee's timesheet and yearly performance reviews.
Assume other tasks or functions related to the position as required.
QUALIFICATIONS
University degree in Chemistry or Biochemistry (minimum B.Sc.)
Minimum 5 years of experience in a chemistry laboratory.
Excellent planning, organizational and communication skill.
Leadership abilities and skills as a team builder and coach
Good knowledge of the Canadian and USA cGMP and pharmacopeia (i.e. USP).
Good knowledge on instruments and equipment used in the chemistry laboratory
Written and oral bilingualism (English / French)
Knowledge of standard and dedicated IT tools
Member of the "Ordre des Chimistes du Québec » is an asset.
Church and Dwight Canada is an equal opportunity employer committed to providing a barrier-free, inclusive and accessible work environment. Applicants may be entitled to reasonable accommodation in respect of a legally protected characteristic in accordance with applicable human rights legislation. If you require accommodation on this basis, we will work with you to meet your needs. Please inform our Human Resources department if you require an accommodation in completing this application for employment or for otherwise participating in the application process.
 
Global Operations
We mitigate supply chain issues and solve challenges in order to continue supporting and serving our corporate customers.
Learn more

Role Location
Canada
Canada is more than its hulking-mountain, craggy-coast good looks: it also cooks extraordinary meals, rocks cool culture and unfurls wild, moose-spotting road trips.
Explore this location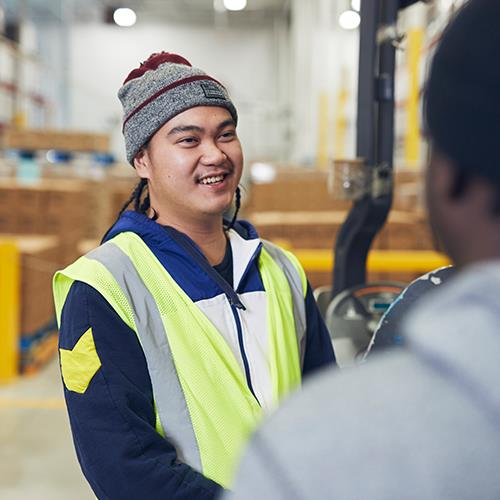 Equal Employment Opportunity for the Disabled

At Church & Dwight

As an equal opportunity employer, Church & Dwight is committed to providing access and opportunities to individuals with disabilities. Applicants who require accommodation in the job application process may contact 877-809-8449 or email their resume and cover letter to jobs@churchdwight.com. Please note that these options are available only to those needing an accommodation because of a medical condition or disability. All email submissions should include "Accommodation needed" in the subject line as well as information related to the specific position you are interested in (requisition number, job title, location, etc.). Church & Dwight will not respond to inquiries made to jobs@churchdwight.com or 877-809-8449 that are not related to accessibility of the online application system by persons with medical conditions or disabilities. To review Church & Dwight's Equal Opportunities Employer Policy, click link below.

Learn More